What is a DeFi Portfolio Tracker?
As decentralized finance evolved, so did the entire ecosystem around it. So the first DeFi portfolio tracker appeared. What is it? In simple terms, it is an application that helps investors monitor all investment positions. The DeFi portfolio app can make everything convenient and seamless in the DeFi space.
In the DeFi world, the actions of investors come down to investing and trading, borrowing, lending, all of which are based on analysis of their assets by market conditions, cryptocurrency prices, and definitely terms of platforms such as DEXes, lending systems, vaults. Logically, many of them thought about a kind of portfolio tracker.

Many developers proceeded to the task of creating a DeFi service, namely a DeFi portfolio, that would be a tool for making investment decisions. In other words, a DeFi tracker app should track all portfolio positions by chain and project. Besides, it would be nice if a DeFi tool such as the portfolio tracker app had advantages like topicality, functionality, simplicity, free to use, and high compatibility.
For example, the success of investments depends on the reliability of data and the completeness of metrics. So a DeFi tracker usually pulls together portfolio details and market data in real-time to calculate up-to-date indicators. This information is shown on a Defi dashboard. You have the right to expect clear, understandable metrics and support for a variety of projects, chains, digital currencies.

A real-time portfolio tracker is just as important as a free portfolio tracker for any investor in the current DeFi ecosystem. As a rule, a paid portfolio tracker provides more functionality with an in-depth analysis of the investment portfolio.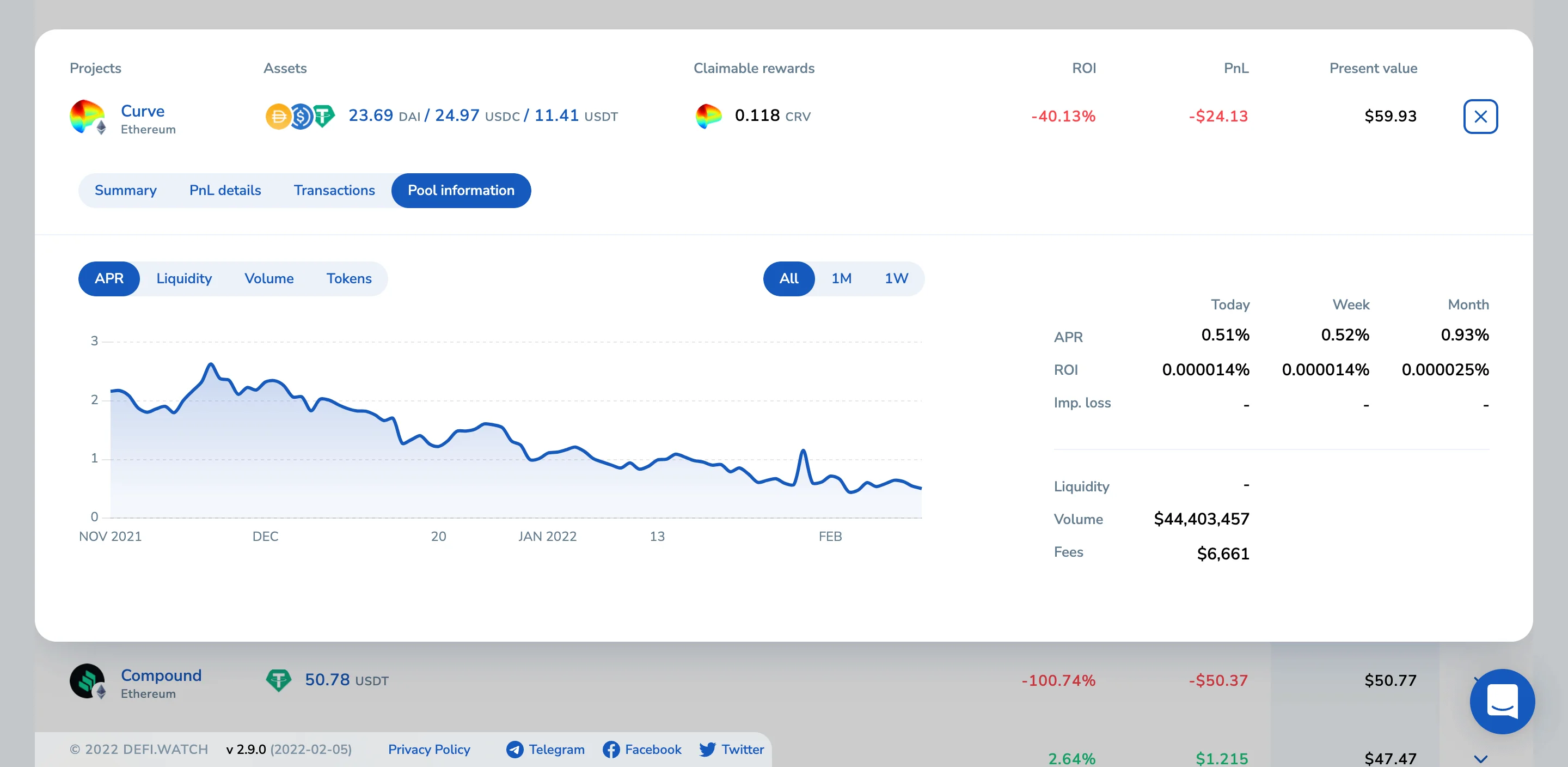 After connecting your wallet to the DeFi Watch, you can get a more detailed analysis of your investment positions.
It is worth noting that the Metamask is a really popular DeFi wallet, so the Metamask portfolio tracker is highly appreciated in the DeFi space.

Most applications are a DeFi portfolio tracker of the web version. For monitoring investment positions from any location, there is a mobile version.

However, the best DeFi portfolio tracker should assist with tracking your assets, investments and also help you manage them. Thus, a DeFi portfolio manager should not only allow you to control each investment position on various DeFi projects but also should provide an option to open a new position or move your assets from a single interface.
The DeFi Watch also has its portfolio tracker, where you can estimate the real value of your investments. It contains only up-to-date statistics for each asset or investment with a breakdown by chain and project, clear metrics, and data visualization in a simple interface. Besides, the DeFi Watch supports many projects and has a wide list of coins.

Thus, The DeFi portfolio tracker is one of the most helpful tools to investors of any level in decentralized finance for DeFi tracking.
Full analytics on your portfolio
Did you know that you are able to extract data from API into Microsoft Excel using the in-built Power Query feature?
The DeFi sector is constantly evolving, including DeFi wallets. Choosing the right one can be a challenge. In this case, it is necessary to pay attention to answers to these questions: "How will the wallet be used?" and "What assets will be in the wallet?". Besides, the product's reputation is as critical as the convenience of use. A reliable wallet provides full safekeeping of the user's funds.

What about the DeFi Watch platform? At the time of writing, you can connect your MetaMask wallet. This browser wallet and app is one of the most popular DeFi wallets. Moreover, the DeFi Watch platform has a demo wallet that demonstrates data of investments and assets with detailed analysis for many tokens and pools. In plain English, it shows what you will get after connecting your personal wallet to the platform.

The DeFi Watch also supports the WalletConnect to bind a wallet to a DeFi application. Available options to connect the wallet may shift in the future because the platform is still evolving, and the team always keeps its nose to the wind.