How to use DeFi Portfolio?
Connecting a wallet on the DeFi Watch platform is very simple. Investors can connect not only Metamask wallets but also alternative non-custodial wallets. In case you have not created your wallet, DeFi Watch has a demo wallet you can dig into.
What do you get after connecting a wallet to the platform? You will always stay up-to-date with your precious funds. That is everything you need as an investor to take the next step.

After attaching a wallet, your investments and assets will be presented in absolute and relative terms. You can click on the "Update" button at any time to refresh portfolio value. The connected wallet also has the sorting by chains and projects.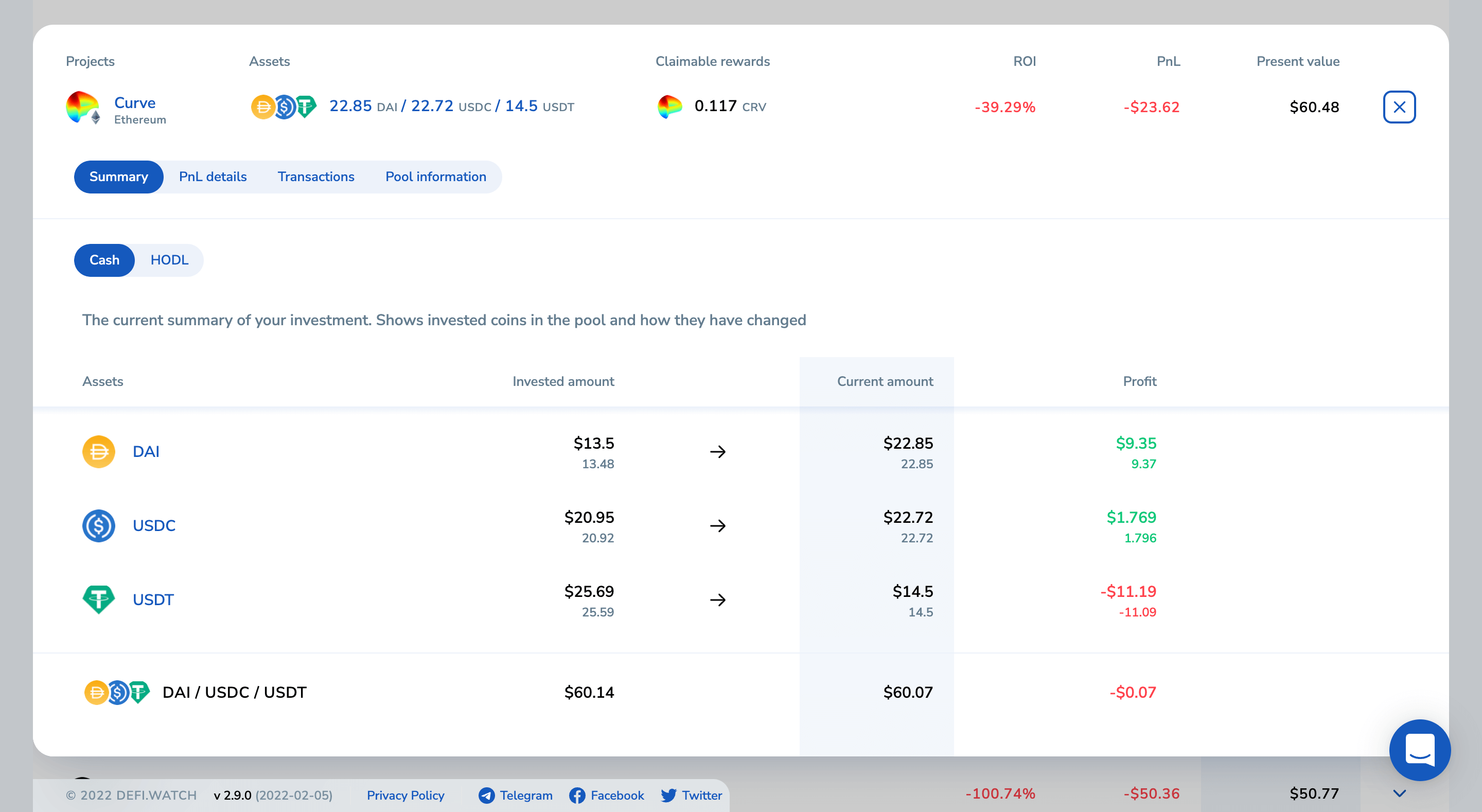 The Defi Watch allows you to track your portfolio more effectively thanks to detailed analysis and clear visualization.
Analytics containing balances and price dynamics are also available on the "Assets" tab. If you click on the row of the token, you will see the illustrated dynamics of these parameters. Value is calculated by multiplying the balance by the price. In addition, PnL displays your profit and loss up to date.

The "Transfers" tab gives you information about sending or receiving assets and links to these transactions. You can also copy transaction hash to your buffer and check it on a blockchain explorer.

By clicking on the pool arrow on the "Investments" tab, you will see detailed pool analytics. A summary of your investment helps to understand which is better: investing or holding. On the "PnL details" tab, you see graphics with dynamic data of Pnl, including FX change, Fees, Impermanent Loss.
Full analytics on your portfolio
Did you know that you are able to extract data from API into Microsoft Excel using the in-built Power Query feature?
Pool details are available on the "Contract information" tab. So APR, Liquidity, Volume of the pool is always on hand. "Transactions" tab consists of Outcome, Income, Gas fee, and Transaction amount figures. Claimable rewards, Return on Investment (ROI), Present value, Gas: these metrics can also come in handy.

So investment analytics provides a detailed answer to the question: "How effective are your investments?"
Thus, the Defi Watch platform presents the necessary information. By connecting the wallet, you will be able to know about:


funds balance of the connected wallet,
a share between investments and assets,
an overview of Cash vs HODL figures,
must-have indicators with detailed graphics,
transactions data.